Posted by Sarah V. Hayes on Dec 5th 2020
Savannah showing her first doggie/cookie cut-out
"Hark! The herald angels sing.." Well, maybe. But there won't be any caroling this year, that's for sure. Instead, Hark! For Peanuts instead! Though National Peanut Butter Lover's Month was in November, we're keeping up with the candy sentiment this month too. We're going to fill those stockings with peanut candies galore and prepare some edible treats for our four-legged friends (courtesy of Damndelecious.net).
That's correct: you did read correctly when I said we're making treats for our dog. I was pondering the many items one can make with this delicious product and came across a Homemade Peanut Butter recipe for our furry friends instead. I thought, "Well, a dog is part of our family so why not?" Cooking, or should I say pouring ingredients together for something to do will keep the kids occupied as well. I was feeling a bit spunky and wanted to do something out of the ordinary too.
I hope the recipe was damn delicious for my dog because it wasn't too appetizing for my tastebuds. However, requiring only four ingredients (flour, eggs, peanut butter and pumpkin puree), these made for inexpensive, healthy treats. Without the foreign chemicals used in other manufactured goods and requiring only 20 minutes in the oven, one would think my name was Betty Crocker….
Especially because I have to make pumpkin pie now to rid the rest of the pumpkin puree. However, add the pie to pumpkin fudge, warm eggnog and you've got yourself a party- a socially-distanced party, that is. Just in time for the holidays, Phenomenal Fudge makes some great Pumpkin Pie fudge you won't want to miss. Take advantage of our everyday Buy 3 Get 1 Free sale and prepare for all your holiday festivities- or should I say lack of festivities. Don't forget those near and far!
For dog treats you can make at home check out our friends at Fluent Woof.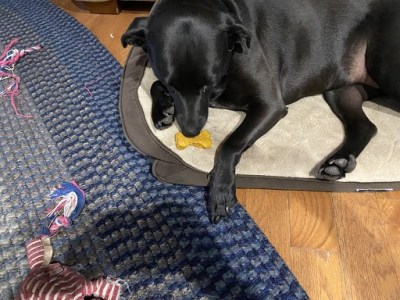 Lucy sniffs the treat, at first, then devours it!